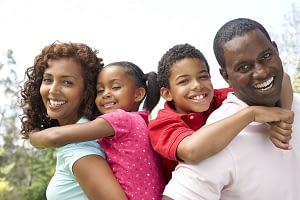 You are welcome into God's presence in Jesus' name! This week, I want to share with you"Power of Unity in Marriage."
In the beginning, after the creation of every other thing, God created Adam. He saw that Adam alone would not be able to carry out the responsibility that He gave him and saw the need for a helpmeet (Gen. 2:18). He created Eve as a helpmeet for Adam, to help him fulfill his destiny. Eve was created from Adam. They were part of each other and needed to function together as ONE to fulfill the God's given goal for Adam (Gen. 2:24).
Couples cannot work together in a marriage without first being in total agreement with each other (Amos 3:3). For a marriage to work, spouses must agree together and be connected in every way- physically, spiritually, emotionally, prayerfully, etc. Matthew 18:19 says if two shall agree together concerning anything, God will do it. This means the power of agreement can penetrate any form of barrier. One reason why couples are not having results in marriages is because they are not genuinely in total agreement with each other. Satan is having a field day and depriving couples of their marital blessings because they lack unity and oneness in their marriage (Psalm 133:1-3)
When couples are in unity, together with the Holy Spirit they become a threefold cord that cannot easily be broken by anybody (Eccles. 4:12).
This makes them live in peace and harmony and it will become difficult for the enemy to pull them apart. Together they can overcome any challenges or obstacles that may come their way. They enjoy synergistic effect because one shall chase a thousand and two will put ten thousand to flight (Deut. 32:30).
In marital relationships, couples need not see themselves as threat to one another but as complementing each other. The Lord brought your spouse to your life to make your life better and make up for what is lacking in your life, so co-operate with each other in agreement so you can enjoy the full package of marital blessings.
Stop the devil from stealing, killing and destroying your peace, joy, fruitfulness, prosperity, blessings, abundance and covenant promises. Agree in body, spirit and soul and begin to enjoy heaven on earth in your marriage.
God bless your marriage and restore all that satan had stolen from you in Jesus name.
"May God bless you until I come your way next time!"
To share your testimonies with me, you may contact me at either of the following: